Blog
'Layers of Identity' Espacio Gallery_2015
Private View: Thursday 9th April 2015  (6-9pm)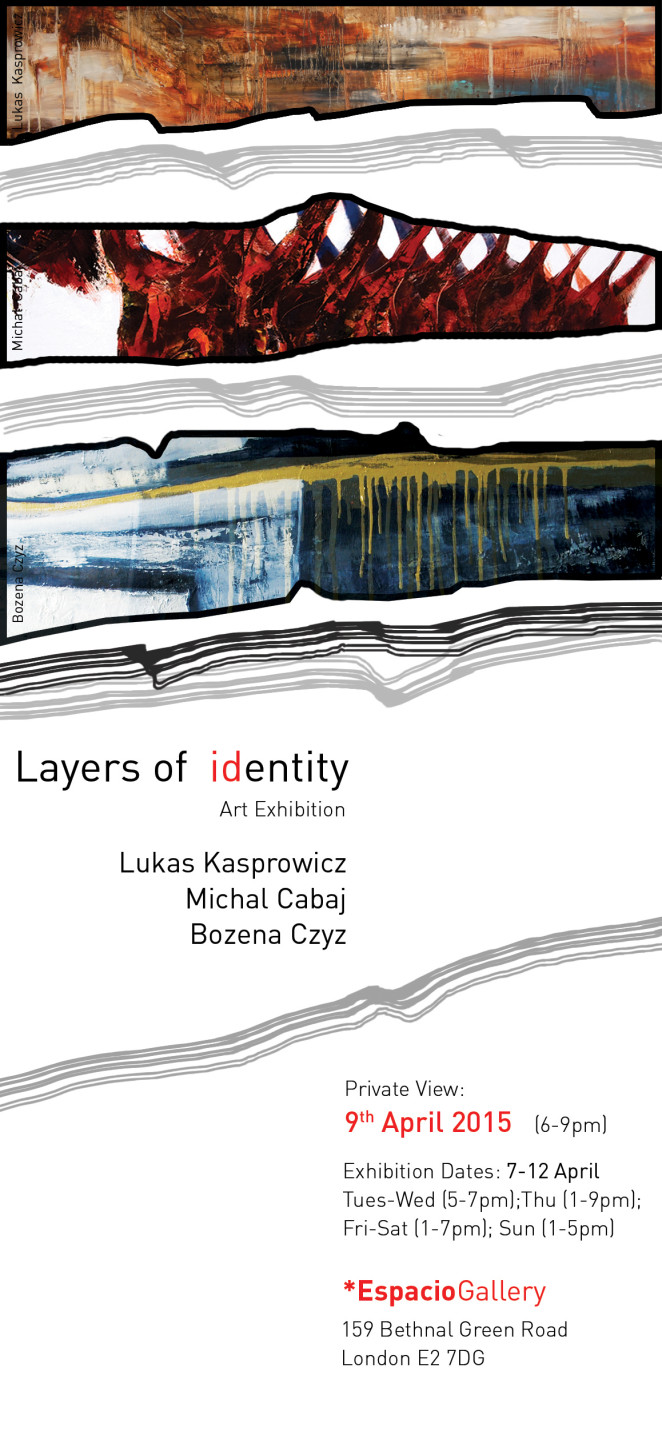 It is pleasure to invite you to the art exhibition which will take place at Espacio Gallery from 7 to 12th of April 2015.
Please join me at the Private View on Thursday – 9th April from 6 to 9pm.
This exhibition focuses on the subject of human identity and how the unique character of each individual can be expressed through the form of art.
The complexity of human emotions, our individual experiences, beliefs or even changing moods, can all influence the artwork whilst it is being conceived. These elements, amongst others, contribute to what's considered our identity.
Three Polish artists – Bozena Czyz, Michal Cabaj and Lukas Kasprowicz – present their works at Espacio Gallery exploring how the artist eView Postngages with their individual piece of art depending on the emotional state at the time of work. Their attempt is to capture some of these intense moments. In order to achieve this, the working process is often treated by the artists as a guide rather than a fully controlled approach, allowing the spontaneous decisions to take over the control. The highly diluted layers of paint applied one upon another in some of the works or quick and decisive brush strokes in others, create the sense of space and depth.
All three artists find the emotional element as a critical ingredient in creating a narrative and therefore making a successful artwork following the words of Mark Rothko: "I'm interested only in expressing basic human emotions: tragedy, ecstasy, doom, and so on."
Bozena Czyz, Michal Cabaj and Lukas Kasprowicz
Supporting the charity
I would like to inform you, that along with presenting our work at Espacio Gallery, we are helping Peach -The Charitable Organisation supporting Parents and raising awareness of autism. 10% of each sold piece will be donated to the charity!
Peach promotes Early Intensive Behavioural Intervention and helps parents of children with autism by providing support, information and choice. More information you can found on their website: www.peach.org.uk and Facebook page : http://www.facebook.com/PeachABA